Chaos Walking really had a lot going for it, what with Edge of Tomorrow director Doug Liman at the helm, and Daisy Ridley (Star Wars) and Tom Holland (Spider-Man) set to star. The movie had gone through some snags over its development, but now we have our first teaser for the trailer which is set to come out within the week.
Get your exclusive first look at the sci-fi action film @ChaosWalking starring Tom Holland & Daisy Ridley!

Be sure to tune into IGN Thursday, November 19 at 6am PT/9am ET to watch the full trailer! https://t.co/H3Bet6DpTN pic.twitter.com/HVd4A475i8

— IGN (@IGN) November 17, 2020
Here's the official synopsis for Chaos Walking:
From Carnegie Award-winning writer Patrick Ness comes the story of Todd Hewitt who lives on the distant planet of New World-a new hope for humanity until struck by "The Noise," a virus which inflicts immersive visions of ones' every thought. The cacophony drives many mad until Todd is forced to leave his home and everyone he loves. He makes a hidden, silent discovery: there is a girl named Viola, who may be the key to unlocking New World's many layered secrets. Together, the two unlikely companions are forced on a white-knuckle adventure into an unexplored planet – trying to escape and hide in an environment where all thoughts are heard, all movements are seen -as they both discover the truth about the lives they left behind and the spectacular world they've learned to call home.
What's more, IGN has also given us some new images from the movie which include stars like Nick Jonas, David Oyelowo, Cynthia Erivo, and Mads Mikkelsen.
The first look at Tom Holland, Daisy Ridley, Mads Mikkelsen, Nick Jonas and David Oyelowo in 'CHAOS WALKING' has been released.

(Source: @IGN) pic.twitter.com/ZSFpyWrTSy

— DiscussingFilm (@DiscussingFilm) November 17, 2020
friendly reminder that chaos walking was only postponed ONCE and it was because they needed reshoots (which many films need) but tom and daisy just weren't available. there's no good reason for you to hate on this movie pic.twitter.com/5q3VDp8AAq

— jonny is going to have a mental breaksown (@chaoswaIking) November 17, 2020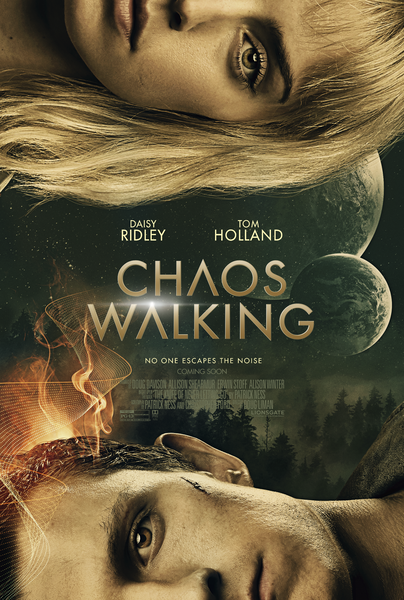 We don't know exactly what happened behind the scenes, but Lionsgate was apparently not happy with the first cut of the movie and word had come out that the film was 'unreleasable.' Delays also further complicated the shoot, seeing that stars Ridley and Holland had become steadily busy, what with work on other billion-dollar movie franchises, and they were deemed too old for the reshoots.
While I still think it's likely that the movie was eventually 'fixed' in post, I have a feeling that Lionsgate would just want to get Chaos Walking out of the way. Though the YA franchise had done well for them with Hunger Games and Maze Runner, the trend has started to fizzle out, and Chaos Walking could be another franchise dead in the water.
Hopefully it doesn't come to that, and we get another success with Holland and Ridley at the helm.
Chaos Walking is set for a release on Jan 22, 2021.