This content has been archived. It may no longer be relevant
Jane Foster is probably one of the blandest characters in the MCU, but she's going to be taking center stage come the fourth Thor film, Love and Thunder. While we don't have an official synopsis of the movie yet, Natalie Portman has confirmed the film will tackle one major plot point from the comics—Jane Foster's cancer.
Talking to Yahoo!, Portman confirms:
I can't tell you that much. I'm really excited. I'm starting to train, to get muscles. If there can be all these female superheroes, the more of them they are, the better it is. I'm trying to think — it's based on the graphic novel of the Mighty Thor. She's going through cancer treatment and is a superhero on the side.
In the comics, Jane is diagnosed with cancer, but she is granted the powers of Thor, and when she transforms she becomes completely healthy. The trick is, when she reverts back, all the cancer medication is gone, and she has to repeat the process all over again.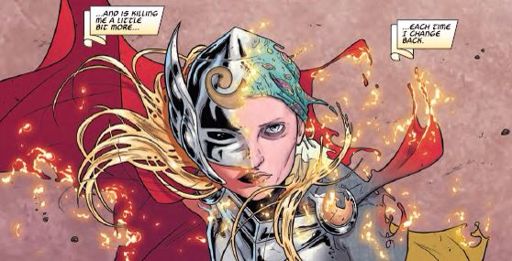 While I don't expect the movie to exactly follow that plotline, I'm excited to watch the MCU slowly evolve and tackle something as 'real' as cancer. This is just me, but I hope that Taika Waititi takes the film more seriously than Thor: Ragnarok. I mean, the movie was fine, but if you watch Waititi's other films, you can really feel some kind of disconnect when it comes to his more sincere films.
Thor: Love and Thunder is set to come out on Feb. 18, 2022.