Star Wars Episode IX is set to come out December of next year, and though we would like to get our first teaser before the year ends, it looks like we'll have to wait until Star Wars Celebration next year. For now all we can do is catch on to leaks and rumors from the set, and Making Star Wars has some new info on Kylo Ren and BB-8
KYLO'S NEW HELMET
Kylo Ren may have smashed his helmet to bits in The Last Jedi, but with him now the supreme leader, it looks like he'll be putting it back on. MSW describes the new look:
Sources have said they saw Kylo Ren with the reforged mask on in various stages of dress, which also means we can't yet say how often he wears the helmet, so if this news disappoints you, try to keep that in mind.. To them it looked like the mask was pieced back together using some kind of red crystalline bonding material. The visual gave the mask "a very corrupted look." A little Kylo, a little Vader, and maybe even with a hint of Maul's facial stylings.
BB-8's NEW SIDEKICK
Though BB-8 is considered to be the replacement of R2-D2 in the sequel trilogy, he has never really had a sidekick to call his own—much like 3PO is to R2. Now a source from the production confirms that BB will be getting a smaller droid to follow him around named D.O. (or 'Dio').
It's said that DO will be attached to BB like a child to a parent, and he will somehow be interfaced into the astrodroid.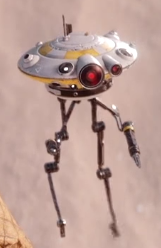 If you've played Star Wars Battlefront II, you'll know that protagonist Iden Versio has a sidekick droid named Dio and it also gets a change in color scheme that's ver y close to BB-8's orange and white look. Though I would love to see the droid come up onscreen, I have a feeling they have a totally new droid they want to show off with this film. With porgs being the 'cute mascot' for The Last Jedi and BB-8 himself the mascot for Force Awakens, I have a feeling it's DO's turn to make a lot of merch money for Lucasfilm and Hasbro.
Catch Star Wars Episode IX in theaters Dec. 20, 2019.