This content has been archived. It may no longer be relevant
There have been several celebrity cameos in Star Wars since the Sequel Trilogy started, like Daniel Craig in The Force Awakens and Joseph Gordon-Levitt in The Last Jedi. And as it turns out, The Rise of Skywalker has revealed one other celebrity cameo early.
Lucasfilm has released this special look featurette, and it's revealed that Lin-Manuel Miranda (Hamilton, Moana) will have a role as a Resistance soldier. Check it out:
This is the still of Miranda with new character Jannah (Naomi Ackie):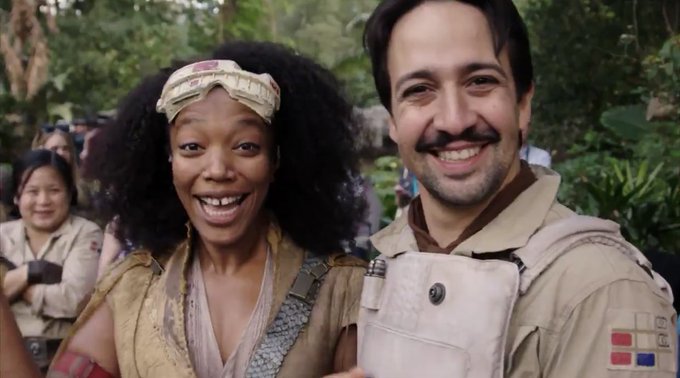 Besides Miranda, I'm sure we're going to get some other mystery celebs in the film. The featurette also features Ed Sheeran in stormtrooper get-up, so it's likely we could see him in the film as well. Lucky for this guy, being able to star as a soldier in Game of Thrones, and now Star Wars.
While a lot of people will see The Rise of Skywalker as the end of the Sequel Trilogy, Abrams is also writing it so that it will be the definitive end of the Skywalker Saga. The film is said to callback to all of the 8 films that came before it, and by the time the credits role, fans will have a sense of 'completion'.
If anything, it's scary trying to move forward without the Skywalkers, seeing that they are the center of everything, but if Solo is any indicator, we can still have fun without having to rely on the galaxy's most problematic family.
Catch Star Wars: The Rise of Skywalker when it comes out Dec. 20.