This content has been archived. It may no longer be relevant
When it comes to the character of Starfire, a lot of people associate her with a bubbliness and charm that's easy to fall in love with. With the upcoming comic about Starfire's daughter called I am Not Starfire though, it looks like Koriand'r will have to find a way to cope with a daughter who wants nothing to do with that image.
Here's a first look at the cover of I am Not Starfire from author Mariko Tamaki and artist Yoshi Yoshitani (via Bleeding Cool):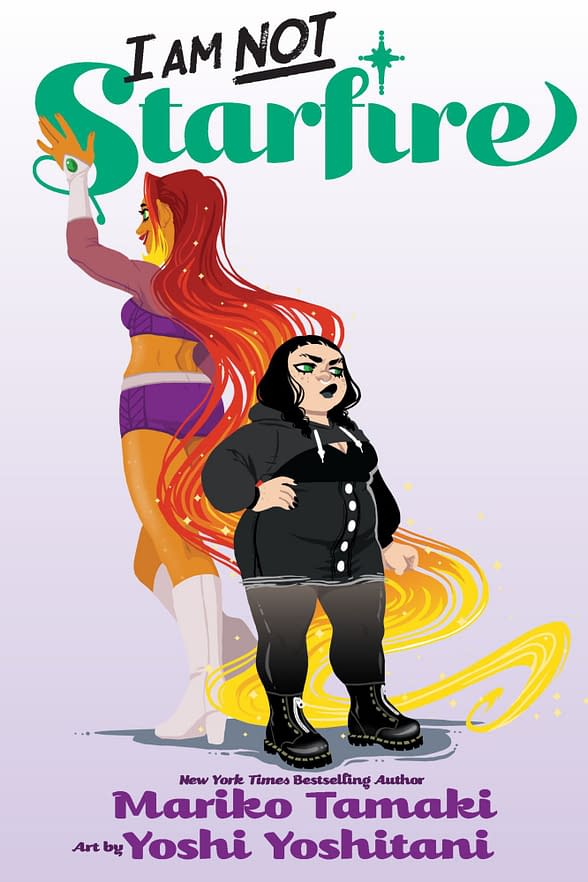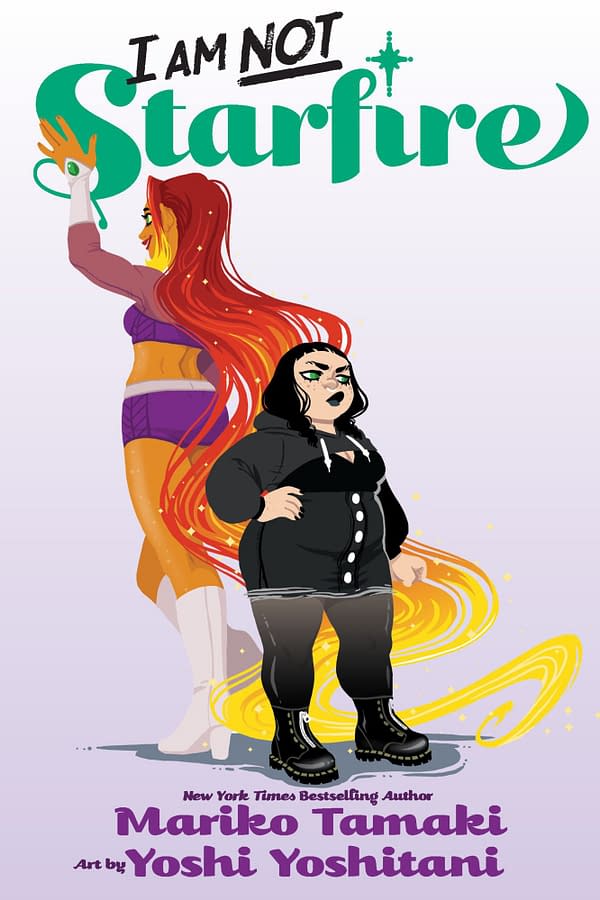 The YA comic was actually announced last year, and it's probably thanks to COVID-19 that we'll have to wait until the latter half of 2021 to be able to read it. Here's the official synopsis:
Seventeen-year-old Mandy Koriand'r is not her mother. Daughter of Starfire and high school outcast, Mandy is constantly trying to get out from under the shadow of her bright, bubbly, scantily clad, and famous mother. Dyeing her bright orange hair black and sticking close to her best friend, Lincoln, Mandy spends her days at school avoiding Teen Titans superfans and trying to hide her feelings for the gorgeous, popular, and perfect Claire. And while Mandy usually avoids spending too much time with her alien mother, she's been particularly quiet as she's keeping one major secret from her: Mandy walked out of her S.A.T.
While Mandy continues to tell Lincoln her plans of moving to France to escape the family spotlight and not go to college, she secretly hides a fear of not knowing her identity outside of just being the daughter of a superhero and who she will become. But when she is partnered with Claire to work on a school project, their friendship develops into something more and a self-confidence unknown to Mandy begins to bloom. Claire seems to like Mandy for being Mandy, not the daughter of Starfire.
But when someone from Starfire's past comes to disrupt Mandy's future, Mandy must finally make a choice: give up before the battle has even begun, or step into the unknown and risk everything. I Am Not Starfire is a story about mother-daughter relationships, embracing where you come from while finding your own identity, and learning to be unafraid of failing, if it was even failing in the first place.
We don't have any looks at the pages yet, but hopefully we get some more reveals as we draw closer to the release date. Besides Starfire, I have a feeling we're also going to get appearances from other Titans like Raven or Cyborg. There's also the big question of who Mandy's dad is because if it was Dick Grayson, then she should have probably had that last name.
It shouldn't come as any surprise that there are a lot of people angry that the 'SJW agenda' has made its way into comics, but I think it's fine that they should introduce stories meant for specific age groups—specifically ones that are in a formative age and trying to figure out their own identities.
Besides, nobody is forcing anyone to read these. You can still read all of your 'serious' comics while these YA ones are available for kids who might want to check them out.
Catch I am Not Starfire when it comes out on Aug. 10, 2021.