** Slight spoilers, but I won't ruin the story.
It's no secret how much I loved the first two issues of the Han Solo comic. My worry for the rest of the run was if they could continue the momentum that started off the series. If this issue is any indication that just isn't the case at all. Han Solo #3 absolutely kills it and doesn't seem to be slowing down.
The story picks up right after the events of the previous issue. Han and Chewy are on a secret mission for the Rebel Alliance and assigned by Princess Leia. Using the most dangerous race in the galaxy, The Dragon Void Run, as cover. There is a mole inside the Alliance, revealing key information to the Empire and killing other informants. Using the stops of the race to pick up the respective informant, and possibly the traitor.
Han and his fellow racers have all been arrested by the Empire for disturbing the peace. Luckily their jail time is just minutes, and they are on their way back to the race. The Dragon Void Run itself is exhilarating to watch and confirms what we know about the scruffy looking nerf herder himself. Han Solo is the best, most badass pilot in the galaxy and we get to see it first hand. We've always heard how great of a pilot he is, and to see it front and center in this comic is a lot of fun. This particular issue ends on a cliffhanger (as most comics do) and leaves a lot of questions.
Once again, Marjorie Liu knows how to effectively write Han Solo. There was never a moment where I thought "Han would never say that." She is so true to the character and obviously has a deep knowledge of who he is. I would love to see her involved with writing the standalone Solo film. For that movie to succeed it needs to have the understanding of the character that this comic has, so far.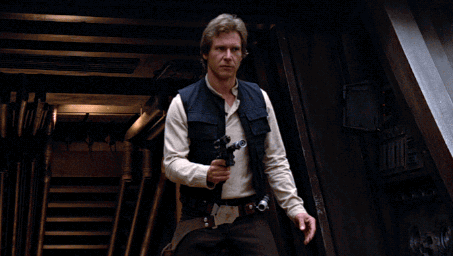 I really tried to find something wrong with this comic, and I just couldn't. It's no wonder the creator himself, George Lucas, asked for all the orginal art from the first two issues. If that's not an indicator on oh great this series is, I don't know what is. The art, the writing, and the adventure itself are fantastic and I can't wait for more.
Image: Marvel/Lucasfilm
"Han Solo" #3
Summary
Han Solo #3 keeps the series perfect. With incredible action, storytelling, and characters, Marjorie Liu's run of Han Solo impresses, and leaves you wanting more.