While Captain Marvel was a big hit for Marvel Studios, the movie admittedly has some very shallow emotional depth. What's interesting is, with the upcoming Black Widow film, it looks like there's going to be a lot more exploration on trauma and the people who survive them—specifically women.
Talking to Total Film Magazine, Florence Pugh reveals, "This film is about the abuse of women. It's about how they get involuntary hysterectomies by the age of eight. It's about girls who are stolen from around the world. It's so painful, and it's so important."
If you remember in Age of Ultron, Black Widow gets a flashback scene where it's revealed how she was trained to be an assassin and how she was given a hysterectomy as part of the program. While we know how Natasha Romanoff turned out in the film, it's going to be fascinating to see how her fellow Black Widow trainees dealt with the trauma. Pugh continues:
"Part of the excitement for me is that women and girls from around the world are going to see this, and are going to see an abuse story that really was challenged by its own victims. For a Marvel film to be reaching all of those levels, it is so exciting. The best thing about that is, it's not layered with this color of grey. You'll see these women strive and be strong, and they're assassins – and yet they still need to discuss how they were abused. It's an incredibly powerful piece."
Here are also some new images from the film courtesy of Total Film: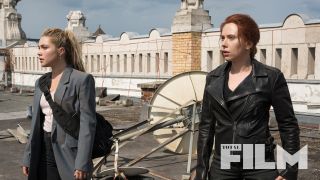 While Marvel pretty much kept to a formula when it came to Phases 1 through 3, fans are hoping that the new era of Marvel cinema is going to be a bit more daring when it comes to their movies. Even if the DCEU is not as successful, at least they've been able to pump out more experimental films like Joker and Birds of Prey.
Though the film could possibly be delayed, Black Widow is still sitting at a release date set for Nov. 6.
Source: GamesRadar