Aquaman director James Wan has said that he was holding back any teasers for the film since he wanted to make sure that the CGI was ready, and a WB panel at CinemaCon had given people a first glimpse at the solo Aquaman film.
Thanks to Fandango's Erik Davis, we get some descriptions of the clips, as well as some character explanations from the cast that was present at the panel. Davis wrote in several entries on his Twitter:
"The War is coming to the surface and I am bringing the wrath of the seven seas with me!" Damn! Very cool #Aquaman teaser that shows there's a lot of action underwater and on the surface#CinemaCon
#Aquaman teaser focused on the battle for the throne between Aquaman and his brother, played by Patrick Wilson. Teases a huge gladiator-like fight between the two. Quick pre-vis shot of Black Manta looked wicked and very similar to this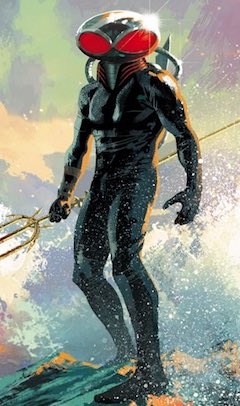 Wilson's character Ocean Master is the one who teases a massive battle on the surface, quoted above. Also saw shots of Aquaman and Mera on the surface, walking through a desert. Favorite Aquaman line was a response where he goes, "I bring the ass-whoopin!"
There was also some teasing in the panel between Amber Heard and Jason Momoa with Heard explaining that her character often bails Aquaman out of trouble instead of the other way around. We also get a description of Black Manta who is described as 'driven' and having a reason for going up against the heroes.
With Aquaman being the only DCEU film coming out, you would think that Warner Bros would have at least given us a preview by now, but after Justice League was a commercial disappointment, it looks like the studio has decided to take some time and really consider where they're steering this DCEU ship.
Aquaman is set for a release on Dec. 20.